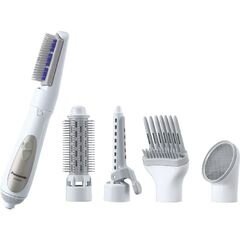 The Panasonic Hot Air Hair Styler EH-KA71 is great for multiple styling needs. With a range of features including a blow brush ideal for straightening, the roller brush for curl & wave styles and the air iron for spiral to twisted curls. As well as multiple speed settings, the EH-KA31 provides extreme reliability and quality that you can come to expect from Panasonic products.
Silent Operation
The EH-KA71 Hair Styler operates silently whilst providing great results. No worry of making noise early in the mornings as this hair styler operates at 59db ensuring a quiet use.
Roller Brush & Air Iron
The EH-KA71 Hair Styler comes with a Roller Brush and Air Iron attachments that provide you with the option of creating curls, twisted curls, waves and spirals in addition to straightening.
Volume Lifter & Nozzle
The EH-KA71 Hair Styler comes with a Volume Lifter which gives body to your hair in a gentle and natural way, as well as a Nozzle for quickly blow drying when needed. With these new attachments you can try an endless number of styles to suit your mood that day
Easy to Use
The Panasonic Hot Air Hair Styler EH-KA71 has a thin easy grip handle and 3 speed settings available at the tip of your finger tips as well as 2 additional hair clips to hold your hair in place for help with difficult styles making the EH-KA31 is so simple to use while providing top results.